Ordering Custom Plastic Cards from CardJett is Easy!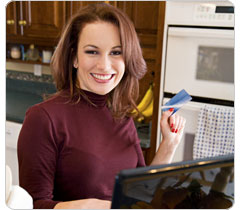 Ordering plastic fundraising cards
Athletics, clubs and school trips are an important part of any school-age child's life, but they can all become expensive very fast! Fundraising is very important to help families afford these extracurricular — especially when more than one child is involved! Fortunately, rising this extra money doesn't have to be as labor-intensive as it was in the past. Forget about lugging around frozen pizzas or mountains of gift-wrap. Plastic Fundraising Cards are the way of the future!
First of all, they are small, convenient, and can be customized with your school or team logo. They're water resistant, scratch resistant, won't fall apart in the wash when left in a pants pocket, and are much less likely to be lost or destroyed than paper. Local businesses like them because they help bring in new business, keeping the money in the community. We do not supply merchants, but we will provide you with a merchant agreement form that can be taken to your local businesses, who are generally more than happy to support local organizations. Best of all, the supporters who buy your "plastics" are in a win-win situation: they are contributing to a good cause and saving money at the same time!
Ordering clear plastic cards
Why settle for a normal paper business card when you can really set yourself apart from the competition with one of the highest quality? Give your company, name, or brand an edge with a business card that really stands out and gets you noticed. Translucent or clear plastic card is far superior to the "normal" business cards that everyone else is carrying. People give out their business card so that they will be remembered. Why not make your card exponentially more memorable than the rest? Clients and business leads are much less likely to throw out plastic as opposed to their paper counterparts, which practically scream "Disposable!" We hear it all the time, and it's true. People are simply hesitant to throw out something so nice!
Ordering plastic loyalty cards
A market flooded with businesses and new ones popping up every day, it's those that make the customer feel special that keep them coming back time and again. Plastic loyalty card is a great way to show your customers just how much you appreciate their business. They enable you to track your customers' spending and reward them accordingly, all the while collecting information for future targeted promotions.
Plastic VIP card makes it easier to remember your "regulars" and let them know that you are aware of and appreciative of their continued support. This helps secure customer retention, which is of paramount importance in the retail industry today. The businesses that win are the businesses that secure and retain loyal customers!
Ordering plastic membership cards
If you looked in your wallet right now, what would you find? Credit cards, a few receipts, maybe some photos… and most likely a few plastic membership card! They're popular with companies and organizations such as the YMCA, country clubs, discount shopping clubs, police associations, swimming pools, insurance providers, health care providers, civic groups and more. Membership and plastic VIP cards help companies keep track of the number of people who are affiliated with their company at any given time. A well-designed membership card gives a feeling of pride and prestige to its bearer. Like our plastic membership products, they make customers feel like they're part of something important, at the same time providing increased security to the organization. It's a win-win situation!
Ordering plastic key-tags
How many plastic key tags do you have on your key chain right now? It's more than likely that you have at least one! That's because plastic key-tags are becoming increasingly popular, in many instances replacing the traditional plastic card. Ever at-the-ready on the key chain, they're much more accessible than cards buried within the wallet. Our key tags are used for just about anything, from gym memberships to grocery store discounts to storing medical information.
We manufactures "2-up" plastic key-tags, which consist of 2 tags together that can be popped apart from each other and placed on a customer's key-ring for easy access.
Ordering blank plastic cards
Many businesses purchase their own equipment to make their own cards; our blank plastic cards are perfect for others involved in plastic card manufacturing. This enables companies to print their own membership, VIP, gift, lotalty, phone, and ID tags.
We carries blank plastics in many colors, including gold, silver, bronze, white and black. These colors are in stock at all times. Since they (obviously) do not require production or proofing, we are able to ship them out the same or next day. You can't beat service like that! Colors beyond those listed above are available, but are considered specialty items and require a minimum order of 1,000 cards.
Ordering plastic gift cards
Everyone knows about plastic gift cards! They have become nothing less than The Next Big Thing during recent holiday seasons. And for good reason! They're convenient, affordable, and appealing to consumers. Gift cards are the perfect choice for any occasion. Small and large companies alike love them because they bring customers into their store. Once there, it's likely that customers will spend more than their gift card amount—an easy upsell for the business. And there's always the possibility that the card will become lost, stolen, forgotten about or expired. Sad for the recipient, but happy for the company that just made the profit!
Some companies use the gift card as a one-time promotional gift, while others prefer re-loadable card in different amounts such as $25, $50 or $100. Either type can have an expiration date, if desired. Our plastic gift card can be printed in 1 to full color on both sides, and can be produced with a barcode or magnetic stripe programmed to work with your point of sale systems (credit card reader) software for tracking, re-loading and storing customer information (which can pulled up each time the card is swiped through the system.) Our cards can also be printed with a signature panel or numbering for customer identification purposes.
If you have any questions, please contact us toll free at (888) 209-7008 at your convenience.